The Joyce Blok Professional Skin Care range is one of the success stories of the New Zealand spa and beauty industry.
As this country's first locally developed beauty therapy brand, Joyce Blok has created products and treatments designed specifically for our unique climate and skin care requirements.
For over 40 years, Joyce Blok has offered the highest quality formulations within our skin care collection. The entire range possesses a strong emphasis on natural, active ingredients while the research and development of all new products draws on worldwide advances in skin care. Our philosophy focuses on providing a complete solution to treat the skin so we offer an essential care range for daily use along with an enhanced care line which contains highly effective cosmeceutical ingredients.
Our Joyce Blok Range
Joyce Blok Hero Product – The Super Serum!
With a silky gel texture, the Award Winning Joyce Blok Super Serum is enriched with next-generation peptides, antioxidants and moisture enhancers to help reverse the effects of environmental damage and enhance the appearance of the skin. This paraben-free serum acts to repair, re-densify and rejuvenate, working to firm and smooth the face, neck and décolleté areas to reveal a more radiant complexion.
Joyce Blok Sugar scrub – JB's Sweetest Creation! 
Not only does this product make you smell divine, it greatly improves the health of your skin! Sugar draws moisture from the environment, so when you apply the scrub it helps to keep skin hydrated from within. Sugar is also a natural source of an AHA, which helps to generate a fresher, younger-looking complexion. By exfoliating at least twice a week, you'll reveal your gorgeous glowing self.
Get a guilt-free tan this Spring with the Joyce Blok Auto Bronze Cream!
This super cream is the perfect solution for a natural glow without exposing yourself to skin-damaging UV rays.
Enriched with hydrating ingredients that will help prevent the effects of ageing the Joyce Blok Auto Bronze Cream is your ideal companion over the warmer months.
JB Refreshing Gel Cleanser
This quick and easy rinse-off cleansing gel is perfect for invigorating the skin for the day ahead. We take ours to the gym, the beach house and weekends away – it never fails to leave our complexion feeling clean, refreshed and hydrated. Perfect for everyday use!
JB Collagen Hand Care Cream
Give those hard workers the attention they deserve with our ultra-nourishing lotion. Leave it on your desk for a moisture rich boost throughout the day to ensure a soft touch.
JB Lip Balm
Make him feel right at home in your handbag next to your fav lippy – the perfect pair! This velvety balm is great to add shine to lipstick or on its own for kissably soft lips. PSST it's also an awesome cuticle cure!
JB Travel Everyday Sun Fitness SPF 15+ 
Even when the sun's MIA it's important to continue using sun protection. This gem is not like the usual sunscreen suspects, Its light and non-greasy formula makes it the perfect base to wear under your make-up. A hero product within our range.
JB Eye & Lip Cleanser
Goodbye cat-eye, hello au naturale. Don't underestimate the power of this little wonder. It will remove even the most stubborn pops of colour, allowing your skin to breathe after a big day – or night. Beauty Code 101: Never EVER take makeup to bed!
Body Care
Healthy, glowing skin also requires us to establish a beauty care routine from the neck down. Though the skin on the body is more robust than that of the face, it too demands attention and needs specialist care to look and feel its best. And just as for the face, there are three steps to caring for the body – cleansing, exfoliating and moisturising.
Anit-Ageing Range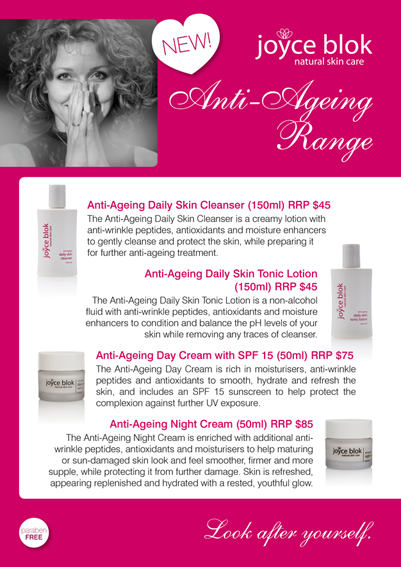 Antioxidant Cosmeceutical Serums
Vitamin C is known to neutralise free radicals and defend against environmental ageing. It is also a key component in collagen production and has a brightening effect on the complexion. With Joyce Blok Natural Skin Care's range of antioxidant cosmeceutical serums, every skin type can benefit from vitamin C all year around.