For centuries South Pacific and Fiji islanders have used pure coconut oil and flower extracts to nourish, moisturise and beautify both skin and hair. Pure Fiji brings you the best of these traditional blends for today's natural bath and body care.
Pure Fiji offer you a complete line of natural beauty therapies containing uniquely Fijian plant extracts – hand selected to guarantee their highest quality.
Untouched tropical flora and the warm Pacific Ocean offer up exotic drift nut oils and powerful plant actives. Sugar cane, pineapple, papaya, passionflower and green coconut are freshly harvested and processed within hours to preserve their fresh bounty of naturally occurring nutrients.
Pure Fiji's blend of cold pressed coconut, dilo, macadamia and sikeci nuts revered for their medicinal and beautifying properties contribute pure, unadulterated nourishment, moisturisation, nutrition and protection.
Deep-sea plants provide protection from the inevitable aging effects of the sun and the inimitable Ngi grass – living within reach of the ocean spray – contribute to the formula for enhanced hydration and drastically improved moisturisation.
Land and Sea providing all that is needed for good health with pure and natural body care.
This is the Pacific way – the way body care should be – naturally.
Pure Fiji involve as many communities as possible in the production of their items, and without this network of human interaction, they would be unable to survive and grow.
Pure Fiji's passion for the product has led to new and exciting opportunities for all the people involved in the process. And, as a consequence of this passion and team effort – their product now reaches across the globe as an ambassador for the beauty of their Island home and culture.
Discover intensive hydrating body oils, creamy coconut lotions, nourishing hand made soaps and fresh sugar scrubs that will get your skin glowing!
NEW PURE FIJI FRAGRANCE available now at Pania Ryan Beauty Retreat!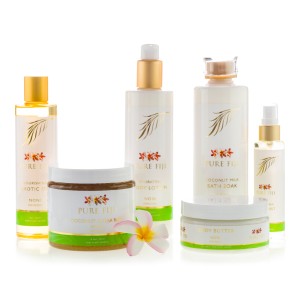 We are so excited about the arrival of our divine new Pure Fiji range, NONI!
Noni is pure decadence for your skin and smells absolutely delicious! Here's why Noni is so amazing!…
Discover the rejuvenating multi-layered aroma of the exotic Noni fruit with a skin enhancing cocktail of zesty citrus notes and refreshing tropical fruit carried on ocean breezes.
The amazing noni plant has been used by South Pacific Islanders as a source of food and medicine for over 2000 years.
Different parts of the plants are used as powerful ingredients in health and skin care. Noni fruit, Noni leaf hydrosols and Noni seed oil are used in Pure Fiji's range of Noni rejuvenating products. Noni helps to build collagen and is high in antioxidants and polyphenols.
Noni seed oil is extremely high in Omega 6 (66.8%) Noni fruit is high in selenium for skin health and elasticity, xeronine for cell regeneration and scopoletin for anti-inflammatory effects.
Noni leaf hydrosols offer skin protection and anti-ageing benefits.
Pure Fiji's botanical blend is now enriched with the anti-ageing benefits of Noni in our signature line to improve fine lines and wrinkle, skin elasticity and firmness.
Facial Solutions
Untouched tropical flora and the warm Pacific Ocean offer up exotic drift nut oils and powerful plant actives – combine this with dermatological genius, and a miraculous balance of nature and science is achieved. From the tropical Isles of Fiji, an ancient blend of exotic drift nut oils and powerful plant actives meet the latest in dermatological revelations to produce phenomenal targeted facial care solutions. A line of face care products that communicates directly with, and stimulates, your skin's own systems.
Exotic Bath and Body Oils
For centuries Pacific Islanders have used a blend of virgin coconut oil and exotic nut extracts to moisturise, nourish and protect both skin and hair. This beautiful blend absorbs quickly and will rejuvenate, replenish, hydrate and nourish your skin. Use as a massage oil, bath oil or daily moisturising treatment.
Body Butter 
This super moisturising creme will instantly revive dry skin. A unique blend of exotic nut extracts rapidly hydrates skin and locks in the moisture to keep your skin perfectly hydrated and nourished. Soy proteins provide an added benefit, setting in motion firming processes to reduce the appearance of fine lines, while passionflower soothes and clams stressed skin. An excellent creme indulgence all year round.
Heavenly Hair 
Discover the South Pacific's secret for beautiful hair with Pure Fiji's ultra nourishing Shampoos and Conditioners. Exotic blends of coconut creme and island drift-nut extracts, fortified by soy and wheat proteins, helps repair damage and improve resilience, restoring bounce and shine for healthy looking hair. Sulphate free.
Dilo Rescue
Dilo oil is cold pressed and is a pure oil which is readily absorbed through the skin. The molecular structure of this oil remains intact with unique essential fatty acids to help alleviate many dermatological ailments. This amazing oil also naturally contains a unique essential fatty acid that soothes irritation and inflammation whilst super-charging the healing and repair process. Soothe, nourish and replenish skin affected by: Sunburn, Windburn, Dermatitis, Dehydration Rashes, Insect bites, Acne, Eczema, Shaving irritation, Post microdermabrasion, Post Radiation and Chemotherapy.